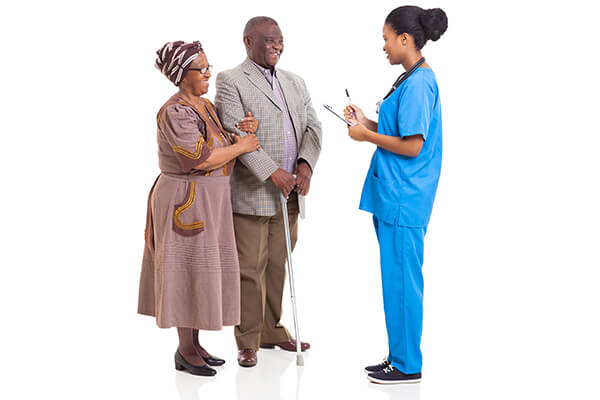 Pinnacle Healthcare Services in Alexandria, VA, is committed to providing the highest quality primary care for women. Every woman has different health needs, and that is why we deliver personalized care that focuses on your needs, helping you stay on top of your health.
Our physician, Dr. Kurwa Nyigu, is board-certified and experienced in diagnosing breast and gynecological concerns and sexually transmitted diseases.
If you are looking for a"women's health clinic near me" or a "female primary care physician near me," contact our medical team at Pinnacle Healthcare Services today to schedule an appointment.
What Services Do We Offer?
Birth Control & Contraception Counseling
At Pinnacle Healthcare Services, we will recommend the best option based on your health history, menstrual cycle, breastfeeding status, and birth control needs.
Some of the available birth control options include:
Natural Birth Control Options

Fertility awareness method (rhythm method)

Hormonal or Barrier Birth Control Options

Birth control pills
Cervical cap
Intrauterine device (IUD)
Spermicidal creams and gels
Injections
Birth control implant

Vaginal rings
Condoms
Sponge
Patches
Diaphragm
Wellness Checks
Having a well-woman exam or wellness check is essential to monitor and maintain your overall health. While protecting your health, a wellness exam helps prevent or diagnose breast and gynecological diseases at earlier stages when they are easily treatable.
You should not delay scheduling your wellness exam if you:
Are sexually active, or are older than 21 years of age
Experience pelvic pain or menstrual irregularities
Your well-woman exam at Pinnacle Healthcare Services includes a complete check-up that focuses on the following aspects of preventative care:
Health History Review

We will review your:

Medical history
Lifestyle behaviors, including smoking, alcohol use, sleep habits, diet, and exercise
Vaccination history
Family's medical history
Sexual activity
Menstrual cycles
Current medications

Physical Exam

We will:

Measure your vitals, such as blood pressure, body temperature, body weight, heart rate, and respiratory rate, to ensure they are normal.
Sometimes even your cholesterol levels may be analyzed.
Perform breast exams and pelvic exams to check for abnormalities.

Depending on your test results and possible health risks, we may recommend further screenings like mammograms, pap smears, and HPV (Human papillomavirus) tests.
Pap Smears
A Pap smear is a screening method that checks for cervical cancer. Regular screenings help reduce cervical cancer rates and mortality by 80%. Your healthcare provider will insert a device called a speculum into your vagina to scrape your cervix to collect sample cells gently. These sample cells are sent to the laboratory to test for abnormal cervical cells. We may recommend further screenings or refer you to another specialist based on your test results.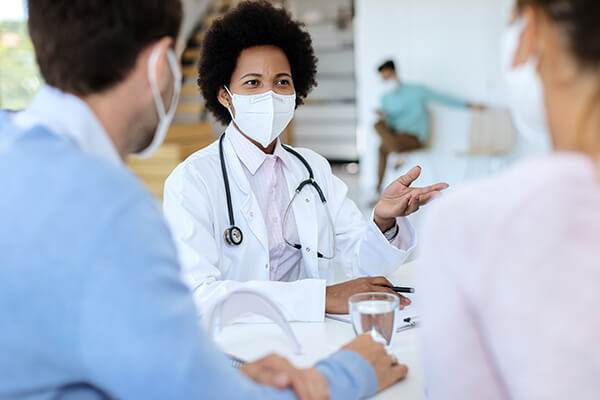 Why Choose Us As Your Healthcare Provider?
At Pinnacle Healthcare Services, we offer comprehensive female primary care services near you. Whether it is a well-woman exam, Pap smear, or birth control treatment, we will ensure patient-centric and organized healthcare and the support you need to improve and maintain your health.
Women's Health FAQs
What Is Included in Women's Health?
Women's health focuses on these areas:
Breast cancer, ovarian cancer, and other female cancers
Menopause and hormone therapy
Birth control, gynecology, and sexually transmitted infections (STDs)
Mammography
Sexual health
Pregnancy and childbirth
Osteoporosis
Benign disorders affecting female reproductive organs
Heart disease
What Is a Women's Health Check?
A women's health check includes:
Health history review
Measuring vitals and BMI
Bone density check-up
Screenings for cervical cancer, breast cancer, STDs, diabetes, eye health, and bowel cancer
Vaccinations to prevent possible diseases
How Long Does a Women's Check-up Take?
The physical part of the exam can take 10 to 15 minutes, and you will be given some time to ask questions to your provider before and after the exam.
Is a Pap Smear the Same as a Well Woman Exam?
No! A well-woman exam assesses the general status of your health and reproductive organs, whereas a Pap smear checks for abnormal cells in the cervix that can develop into cervical cancer in the future.
How Often Does a Woman Need a Pap Test?
Women aged 21 to 65 should have a Pap test once every three years if the results are normal. Women aged 30 and above should have a Pap test along with an HPV test.