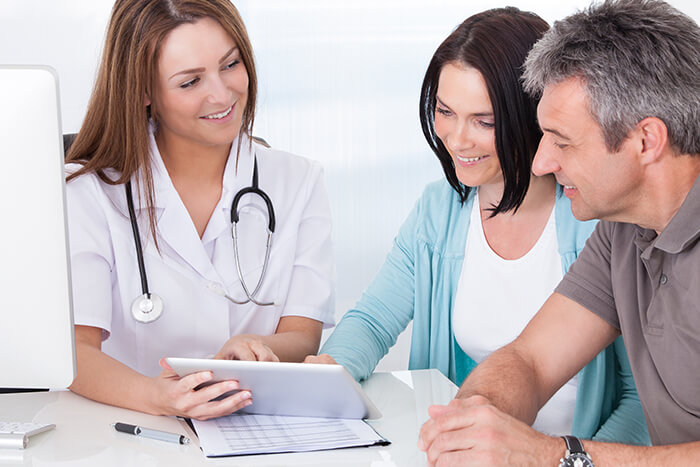 As a part of preventive care, disease screening services help detect a disease or condition early. It also allows you receive treatments on time to resolve or effectively manage the situation. At Pinnacle Healthcare Services in Alexandria, Virginia, we offer comprehensive and affordable disease screening that:
Detects serious or chronic conditions earlier when there are no symptoms
Helps to understand your risk for potential health problems
Prevents the disease progression
If you are looking for a health screening near you, schedulean appointment with Pinnacle Healthcare Services today.
Who Needs Disease Screenings?
We recommend disease screenings for people aged 21 to 80. The frequency of your screenings depends on your age, risk factors, family health history, and previous screening results.
What Conditions Do We Commonly Screen For?
Blood Pressure
Cholesterol
Breast Cancer and Cervical Cancer
Diabetes
Osteoporosis
Obesity
Colorectal Cancer
Prostate Cancer
Vision Problems
Urinary Tract Infections
Kidney Diseases
Sexually Transmitted Diseases (STD)
When Can Screening Be Beneficial?
Disease screening is beneficial if:
You have serious health conditions or a family history of diabetes, heart disease, or stroke
Earlier treatment (before symptoms appear) is effective compared to treatment that is delayed until symptoms appear
The prevalence of disease in the DPCP (Detectable Preclinical Phase) is comparatively high
Earlier detection helps effectively manage the condition, reducing your risk and increasing your survival rate
What Types of Preventive Care Services Are Included in Disease Screening?
Our disease screening includes these preventative care services:
Routine physical exams for men and women
Vaccinations
Blood Pressure and Cholesterol Tests
Prostate Cancer Test
Colorectal Cancer Test
Diabetes Test
STD Screening
Cervical Cancer screenings, such as Pap Smear, Pelvic Exam, and HPV Test
Urinalysis
Blood/lab tests
Counseling to manage mental and behavioral health conditions
Why Choose Pinnacle Healthcare Services for Health Screening?
Pinnacle Healthcare Services is your one-stop clinic for all your disease screening needs. We have highly-trained and qualified medical providers who can perform screening tests with accurate results. Our goal is to make you aware of potential health problems and encourage follow-up care with specialists to ensure your health and wellness.
Inexpensive

At Pinnacle Healthcare Services, we believe that everyone deserves high-quality and affordable health screening. We work with major health insurance providers and offer affordable self-pay options to help you get cost-effective screenings.

Easy to Administer

While offering comprehensive screening procedures in a calm, welcoming environment, we oversee the whole process to make it hassle-free and convenient for our patients.

Minimal Discomfort

With our compassionate staff and state-of-the-art facilities and equipment, we can offer health screening procedures with less to no pain.

Reliable

As a part of our health screening standards, screening results will be reviewed by our board-certified physicians to ensure accuracy and consistency.
Disease Screenings FAQs
Do I Need to Gather My Family's Medical History for Health Screenings?
Yes! Families share similar environments, lifestyles, and genes, so you may be at risk for conditions that already run in your family, including heart disease, stroke, obesity, diabetes, cancer, and more.
How Do You Get An Overall Health Checkup?
You can schedule an annual or routine physical exam with your provider to assess your overall health, including your medical history, vital signs, existing and possible diseases, and vaccination status.
Are Disease Screening Services Covered by Insurance?
Most health insurance policies cover preventive disease screening services. However, you can check with your insurance to learn what is covered.